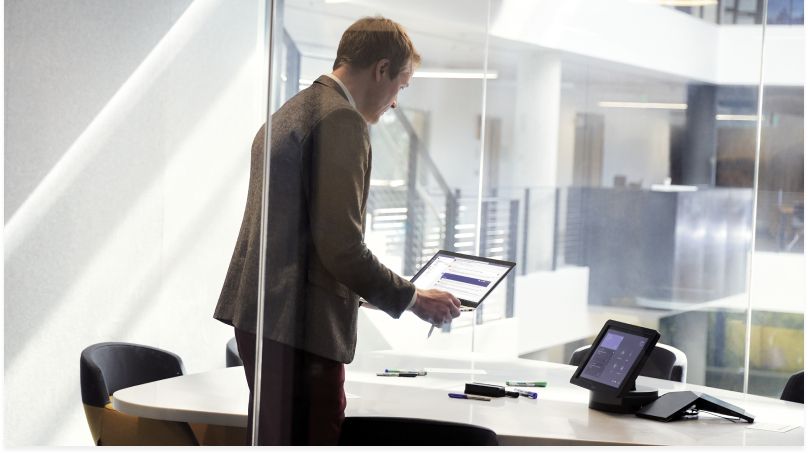 Video conferencing gets less painful with Microsoft Teams Rooms
Microsoft is making it easier for organizations to manage Microsoft Teams Rooms devices with two new monthly subscription options.
Microsoft Teams Rooms is a dedicated hardware and software solution for video conferencing that was previously called Skype Rooms. Microsoft Teams Rooms devices include headsets, speakerphones, desk phones and Teams displays, collaboration bars, web cameras and more to be used with its video conferencing software. In order to help organizations manage these devices, Microsoft is now offering both a standard and premium subscription for Microsoft Teams Rooms. 
The Standard subscription is priced at $15 per device per month and provides licenses to use the Microsoft Teams collaboration service, Microsoft Endpoint Manager Intune for device management and Phone System and Audio Conferencing capabilities. With this plan, IT professionals will be responsible for device and service monitoring as well as patching. The Phone System service is a private branch exchange replacement solution for connecting voice over IP phone calls while the audio conferencing service allows meeting participants to connect using their phones instead of with a Teams Client.
The Premium subscription for Microsoft Teams Rooms costs $50 per device per month but for the price, Microsoft will manage updates and monitor service quality remotely to free up organizations' IT staff. This option also includes device setup and some on-site support.
Teams Admin Center
As part of its new Microsoft Teams Rooms subscription options, Microsoft is also providing an improved management experience through the Teams Admin Center. In a blog post, the software giant provided more details on the Teams Admin Center, saying:
"Teams Admin Center is the admin's single portal to manage all their Team devices and ensure they are always up to date and ready for use, admins can use the Teams Admin Center to track and manage their inventory for scaled management operations."
Admins will be able to use the Teams Admin Center to see device health status and call quality information over the last seven days. They will also be able to export the entire list for offline analysis, download logs, change device settings and perform or schedule tasks such as restarting a device.
Additionally Microsoft has added the ability to automatically update phone and collaboration bars to ensure that their software remains up to date. Admins will also now have the option to allow devices to automatically receive and apply updates.
Now that employees and organizations will likely be working form home for the foreseeable future, these additions to Microsoft Teams Rooms should make video conferencing while working remotely a bit easier.
Via Redmond Mag